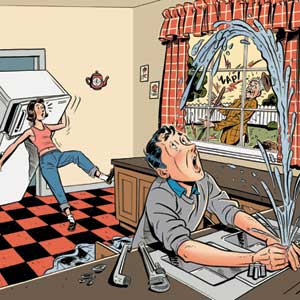 Or at least most of it yet, without the househelp. Today's still Friday and I am optimistic.

When the help insisted on going home to her province even after we offered to bring her to our family dentist, I knew there's nothing more my cajole, bribery, pleading and whatnot can do to alleviate her toothache. So I let her be. Part of me is wondering if she's still coming back because I wasn't quite sure how to go about the daily home grind without the extra help to do the cleaning, laundry, and ingredients-prepping.

Since I don't have the luxury of a help to prep the ingredients an hour before I get home to cook, the members of the household made an agreement. The arrangement was for me to cook huge batches of food that will last a fortnight day, preferably stews and pastas that get better with age; and for them to eat whatever it is that I cook. For times that I needed to prep the ingredients for the meal that needs to be eaten right away, I should make nothing fancy, and nothing that lasts more than 30 minutes prep and cook time. Here's this week's menu which the household members are more than happy to have in their meals:

Humba (or pork belly stewed in dark sauce)
Traditional Meat Sauce Spaghetti
Stir-fry foot-long beans
Spicy fish tinola (or super-simple fish soup in lemon grass, tomato and chili)

Friday was eat-out day, and KFC it was.
I think this family can go through another week with the same menu. I'll be sure to vary the schedule, though.
Take me to HOME COOKING tab
image from www.thisoldhouse.com/