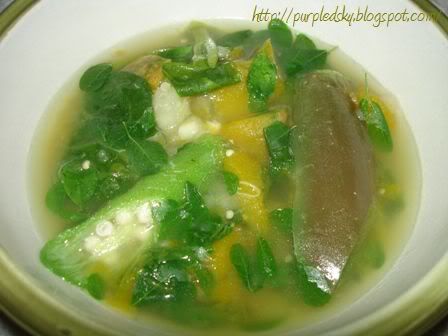 Of the first few dishes I've learned,
utan bisaya
, or local vegetable stew, is my favorite. Whenever I'm home at my mother's, I always ask for this dish. She still cooks the best vegetable stew. Surprisingly, with the combined rustic flavor of homegrown vegetables, this dish made it to my comfort food list.
Ingredients:
kalabasa (squash)
gabi (taro)
talong (eggplant)
okra (lady finger)
alugbati (vine spinach)
malunggay (leaves of horseradish tree)
sangig (local basil)
tanglad (lemon grass)
fried fish or pork cube or stock (optional--added for additional flavor)
In a deep stoneware, bring sliced kalabasa and gabi to a boil. Add sliced talong and okra. Cook until fork-tender. When soft, mash the gabi and some kalabasa to thicken the soup. Add alugbati and tanglad. Add fried fish or pork cube for flavor. When soup starts to boil, add malunggay and sangig. Turn off heat right away.

Serve warm.

If you're on diet, this is the best dish for you. Zero fat, healthy and filling. What more can you ask?

Take me to HOME COOKING tab