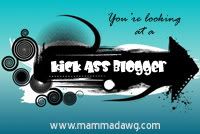 Yep, that's me. I am a kick-ass blogger. Thanks to
Faeryrowan
and
MammaDawg
(who equally kick butts) for the recognition. No, you're wrong, I did not bribe or intimidate them into giving me this, it's my charm. My irresistible charm. Really. :-P Seriously, MammaDawg, will you ever run out of brilliant ideas? :-)
And I happen to know a lot of bloggers who kick ass as well. Without further ado, allow me to roll the credits, in no particular order:
I know more who kick ass, but unlike
faery
, I'm sticking to the rules. That fairy-girl, btw, just bends the rules because she has so much love to give. Not brown-nosing here, just facts.
So anyway, passing this on...
Do you know any bloggers that kick ass?
Maybe they've got incredible, original content. Or they're overflowing with creativity. Is it someone that helps
you
become a better blogger? Or a bloggy friend you know you can count on? Or maybe it's someone who simply inspires you to be a better person... or someone else who sends you to the floor, laughing your ass off.
Whatever the reason may be, I'm sure you know at least a couple of bloggers that kick ass. Well...why not tell 'em so?
LOVE ON 'EM
Choose 5 bloggers that you feel are "Kick Ass Bloggers"
Let 'em know in your post or via email, twitter or blog comments that they've received an award
Share the love and link back to both the person who awarded you and back to www.mammadawg.com
Hop on back to the Kick Ass Blogger Club HQ to sign Mr. Linky then pass it on!
Grab code's below - don't forget to link up the person who nominated you for the Kick Ass Blogger Club. :)
BONUS: Are you a Mom or Dad Blogger, too? If so, join us at
The Bloggerhood
!
(150px Width)
(200px Width)
Go everyone! Let's keep on kickin' ass!