I pride myself for being a domestic goddess, but that doesn't mean that I love doing all household chores that needs doing around the house. The good thing with having a help around is that I get to only do the things I love doing. Quite frankly now, I am better at managing a house than anything else. I keep everything running in their best condition, that includes the people around the house :-) I cook good meals, and I have an eye when it comes to organizing things. But other than that? Gah, I simply suck.

So anyway, I'm here to list down household chores I hate doing. Husband, let this be your reminder ;) Big hug to Mommy Ruby of Lourdes' Mia for this tag.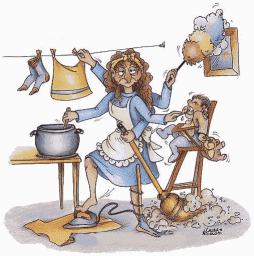 ~~~START COPY~~~
This meme is pretty simple.


Here are the rules:
1.) List down the household chores you hate and why. Do you think you can survive without helpers and nannies?
2.) Copy the image.
3.) Tag as many girlfriends you want, the daddies and hubbies can also join.
4.) Add your blog's link in the domesticated divas linky love. You can add all your blogs.
5.) Leave a comment at
Stripe and Yellow
to be added to the masterlist.
~~~END COPY~~~
So, on to the chores I'd do anything to avoid:
Laundry
. "Langga, can't we just have these sent to the cleaners and get it done with?" That's my usual line whenever we catch ourselves with no househelp for a week. I just simply hate doing the laundry, especially here in the Philippines when it's too darn expensive to own high-powered washing machine and dryer.
Ironing
. I can't stand the heat, please! I can iron, alright, infront of a 2 horsepowered AC in full-blast.
Cleaning bathrooms
. Do I need to explain why? This job is simply hateful! I also hate that I had to do all those backbreaking tasks in such small room.
I'm passing the tag to Catherine at
Newife Blog
, and Constance at
Sunny Side Up Foodie & Lifestyle
. Mommies, what household chores you wish to live without?
=================================

And since I've been talking about how I am an efficient home manager, ehem, here's a convo from dNeero that talks about all of August so far, i.e. the skyrocketing gas prices, economy, olympics, etc. Can't help but relate this to household budget and all. *sigh* Read on...