I've been so amiss on my recipe postings, that I have accumulated quite a number worth posting but never got around to doing it. Primarily because the dish is gone even before I can whip out my camera. Cook something my husband likes, and that will be the flavor of the month. Not that it's his duty, but he won't care if I need a photo of the food before anybody dig in. Doesn't matter, everybody will be starving by the time I'm done cooking anyway, so there's not much energy left to point and shoot. This one is taken on one of those rare moments when I took a bite or two during cooking time, thus, there was energy left to operate the cam before the main event. I think I gobbled up a couple of sausage slices.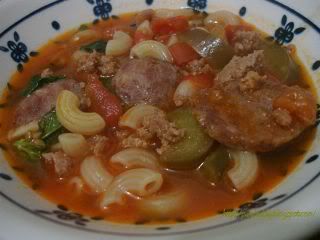 Recipe


2 medium sausages of choice, sliced
200 grams lean ground meat of choice
olive oil
2 cloves garlic, pressed, peeled and sliced
5 medium-sized tomatoes, roughly chopped
3 cups chicken stock
¼ cup tomato paste
1 eggplant, chopped
250 grams macaroni pasta
a handful of fresh basil leaves
salt and pepper
Cook the ground meat and the sausages separately. You don't need to add oil in cooking, the meat will render what little fat they have during cooking. Set aside.
In a saucepan, heat olive oil. Sautee garlic. When fragrant, add tomatoes. Cover to cook.
When tomatoes are done, add chicken stock. Let simmer. Add in tomato paste and let simmer for a good minute. Add eggplant slices.
Stir in the pasta. Cook 2 minutes before the scheduled cook time in the package. Stir occasionally.
Add the ground meat and the sausage. Stir in basil leaves. Season with salt and pepper to taste. This should cover the remaining cooking time of your pasta.
Serve hot.
Oh yeah, this was last month's flavor. This month is
Chicken Basil
.
Take me to HOME COOKING tab